by peter traben haas
A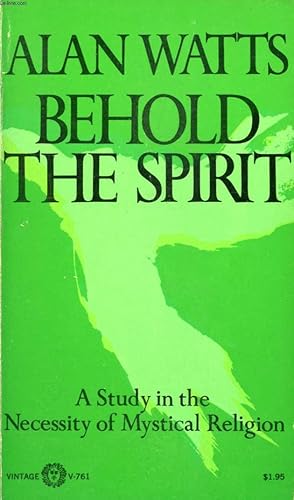 friend recently sent me Alan Watts' (1915-1973) prophetic and seminal book Behold The Spirit. Reading it, I kept pinching myself, remembering that Watts wrote this book in the immediate years following World War II! What a prophet! I also couldn't stop myself from underling nearly every sentence of several chapters of the book. I was gladdened to see how Watts has beautifully conveyed so much of what is in my heart and mind, and that I often try to express. I'm so grateful to my friend for sending it too me. What a theologically and spiritually vibrant resource!
While Behold The Spirit was published in 1947, amazingly the American Christian church is just now catching up to its meaning and importance. Perhaps today, seventy years later, the church is now able to heed Watts' message and invitation.
Behold the Spirit bears testimony to Watts' far reaching spiritual gaze and ecclesiastical critique of what the Christian church could and should be. He calls us to return to the Christian roots of contemplative spiritual community. If you are looking for a Protestant primer that encompasses the sweep of theological history,  Behold The Spirit is a great place to begin.
Regrettably, in Christian circles, Alan Watts may not be that widely known or referenced. He should be. Watts was a British philosopher, writer, and speaker, best known a a mid-century interpreter of Eastern philosophy for a Western audience. Born in Chislehurst, England, he moved to the United States in 1938 and began Zen training in New York. Watts attended Seabury-Western Theological Seminary and became an Episcopal priest in 1945.
He left "formal church" ministry in 1950 and moved to California, where he joined the faculty of the American Academy of Asian Studies. Where he continued to write and publish prolifically on spiritual matters.
Like Thomas Merton (1915-1968), Watts was also born in 1915 and similarly went on to to speak prophetically to the Christian church about the vital relevance of recapturing the contemplative dimension of Christian life and spirituality. Both frankly spoke to an anxious and busy culture, urging us to return to the treasures of the contemplative way. Both explored the mystical roots of the Western Tradition, and both turned to the East for insights on their personal spiritual journeys.
Although Watts died when I was sixteen months old, his book is just now gracefully reaching my life – and the wisdom within it is a clarion call to the Christian church and her pastors.
Watts wrote a new preface in 1971, two years before his death. A preface that is worth the price of the book alone, and which concludes with this compelling and prescient invitation to the Christian church and her leaders:
"The practical problem is, what are we going to do on Sunday mornings? How are ministers to continue their work? What is to be the use of church buildings, funds, and administrative machinery? Naturally, institutional Christianity will, in its present form, continue to supply the demand which remains for a monarchical [civil] religion. But a considerable number of ministers and even congregations – not to mention millions of reasonably intelligent young people – realize that churches must 'put up or shut up,' and that the chief business of religious facilities and assemblies is to provide a social milieu for religious experience. This is no mere matter of changing the externals – of having rock bands instead of organs and Kyrie eleison set to jazz, nor even of turning churches into social service centers with the idea that this would be practicing Christianity seven days a week instead of just talking it on Sundays. Indeed, one may well hope that monarchical Christianity will not be practices, even on Sundays, since the dutiful spirit in which it dispenses charity breeds resentment in the giver and the receiver alike, for when the one gives with reluctance the other receives with guilt. Ministers and their congregations must instead consider what need there may be for churches as temples for contemplation and meditation, stripped of the courthouse furniture of stalls, pews, pulpits, lecterns and other equipment for throwing the Book at captive audiences. They must consider also the need for retreat houses and religious communities, and for guidance and instruction in the many forms of spiritual discipline which are conducive to mystical vision [non-dual knowing]." (pp. xx – xi).
© 2017 ContemplativeChristians.com. All Rights Reserved.